Caesars Palace Las Vegas is probably the most well-known hotel and casino in the world. Whether you've been to Las Vegas or not, you have probably heard about Caesars Palace, and if given a chance to go to a casino in Vegas, Caesars will most likely be at the top of your list. Caesars Palace is much more than a casino, though. It's a complete resort property offering an amazing entertainment experience.
Caesars Palace is expensive because it's Vegas's most iconic and famous casino resort. It's a gambler's dream, with 1324 slot machines, 185 game tables, and a large poker room. Caesars has amazing restaurants, bars, OMNIA nightclub, the Garden of the Gods pool area, the Forum shops, and more.
In this article, we'll take an in-depth look at the three reasons why Caesars Palace is so expensive. So, if you are intrigued by this magnificent resort and casino, read on!
Find the best deals on Caesars Palace rooms and save big with TripAdvisor!
1. Caesars Palace Is An Iconic and World Famous Hotel
Caesars Palace in Las Vegas is the world's most well-known and iconic hotel and casino. It was built in 1966 and is home to a 20-foot (6.1-m) statue of Augustus Caesar. You will find statues and replicas from the Roman empire throughout the resort.
Caesars Palace has a great atmosphere that all guests will enjoy, but it was built with high rollers in mind. Many people all over the world save for years to be able to stay at Caesars Palace. International visitors see the casino in the movies and on TV and want to stay at the hotel for the full Vegas experience.
Caesars Palace has been featured in movies such as:
If you're interested in learning more about the other iconic hotels in Las Vegas, check out my comparison of the best Las Vegas Hotels. It gives you a detailed look at the pros and cons, so you can decide which place you'd like to visit. [The Pros and Cons of Las Vegas Hotels Compared] (coming soon)
Because of Caesars Palace's iconic status, the casino and resort can afford to be expensive, knowing that visitors will happily pay the high price to experience everything the property offers.
Caesars Palace has rightfully earned its iconic status for various reasons: 
Alternatively, watch this informative YouTube video showing you an amazing villa available at Caesars Palace. This is the highest of the high-end and is very pricey. Fortunately, Caesars also has rooms that we regular folks can afford.
Compare rates and save! Check current Caesars Palace room rates now at TripAdvisor.
Want to compare a stay at Caesars Palace to another iconic resort on the Las Vegas Strip? Then be sure to read: Caesars Palace vs Bellagio (Which Las Vegas Hotel is Best?)
2. Caesars Palace Offers Amazing Entertainment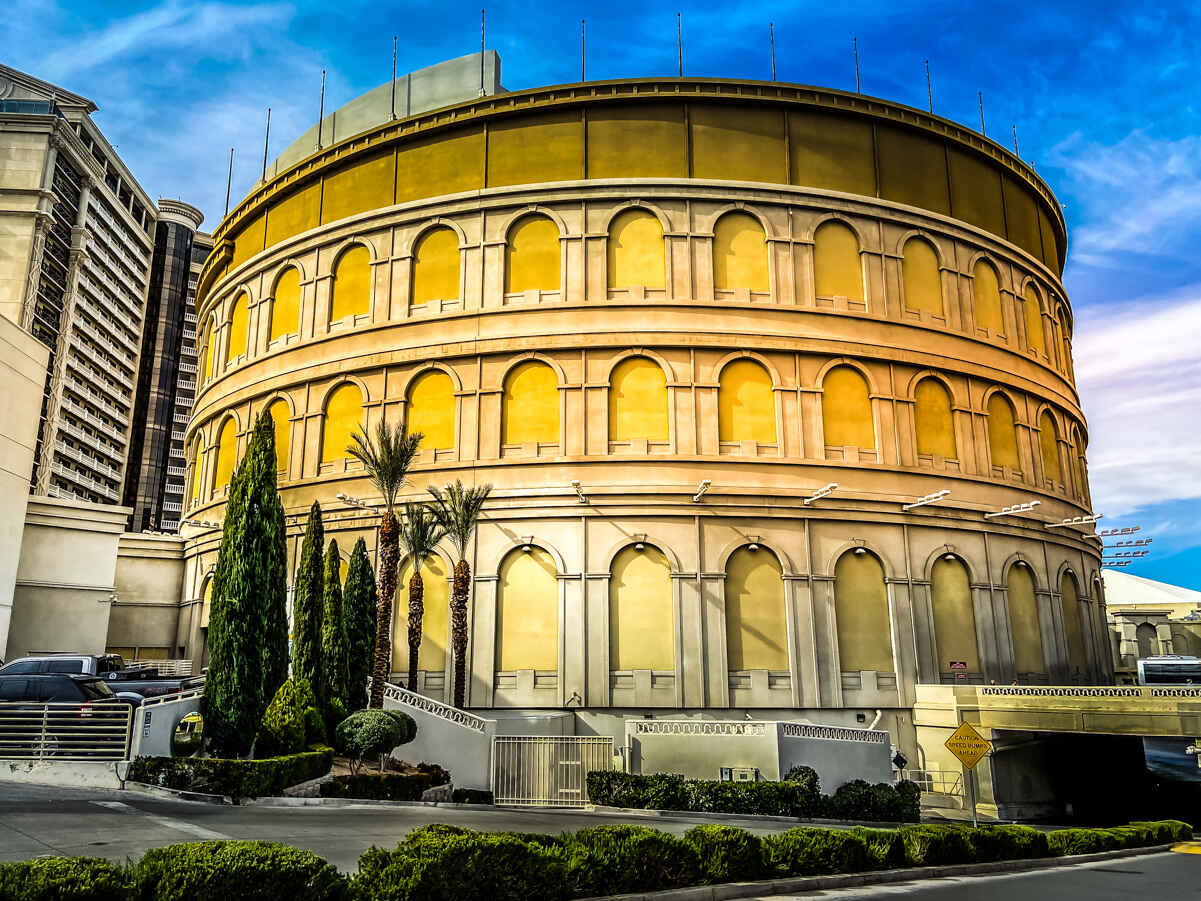 With all the epic entertainment offered at Caesars in Las Vegas, it's no surprise that visitors are willing to pay higher prices to experience the thrill. When staying at Caesars Palace, there is so much on offer that you may never need to leave the resort.
Here are some of the top entertainment options available at Caesars Palace: 
The Colosseum
The Colosseum cost $108 million to build and is the epitome of entertainment in Las Vegas. Its architecture is beautiful and inspired by ancient Rome, just like the rest of the resort. It has 4296 seats, so visitors will have a great view when watching a show or concert.
Many of the world's most well-known artists have performed here, and fans are willing to pay high prices to see their favorite artists live in concert.
Some of the talented musicians who have performed and will be performing at the Colosseum include:
Check out our website for a comprehensive list of upcoming concerts in Vegas featuring talented artists performing at some of the city's most stunning venues.
The Forum Shops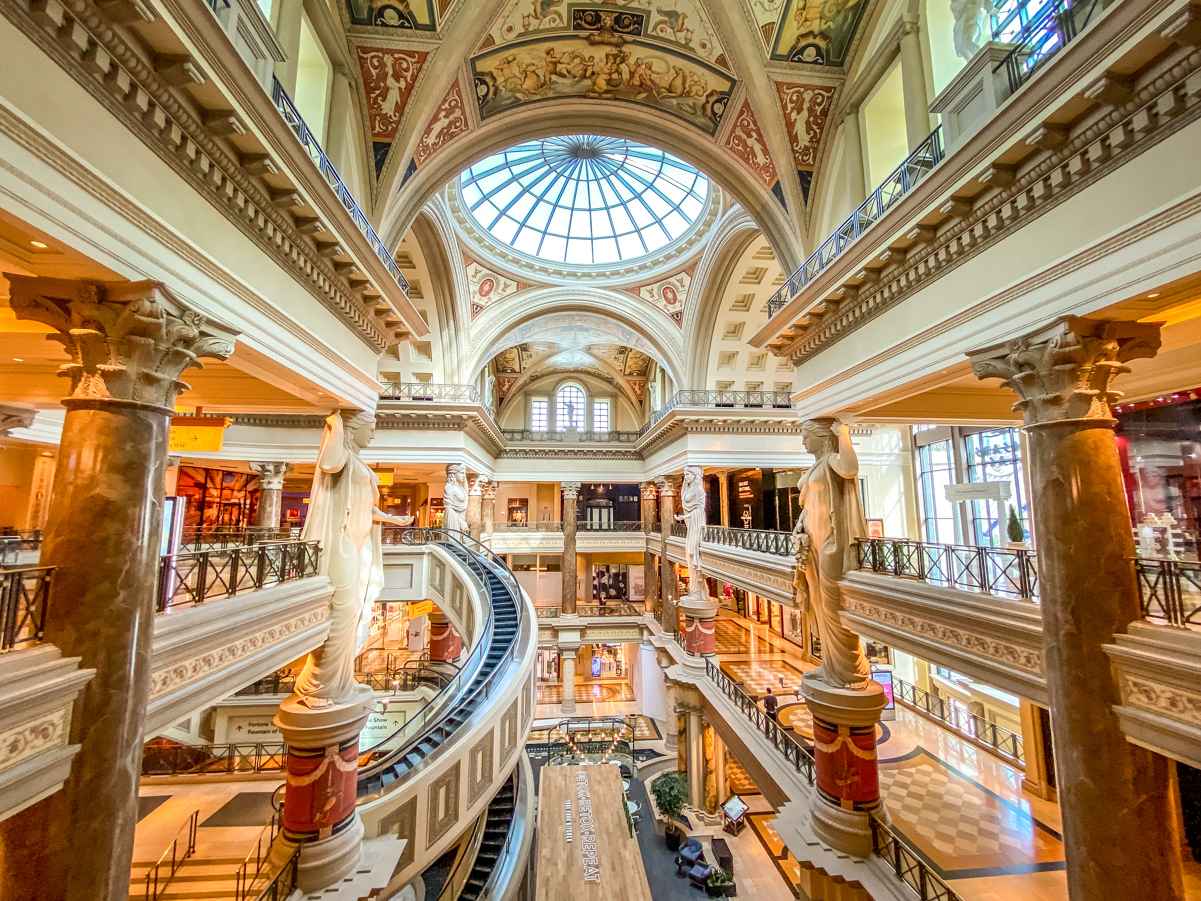 The Forum Shops is the highest-grossing mall in America, and with so many visitors, it is easy to see why. The mall has an area of 636,000 sq ft (59,100 sq m) and is home to many high-end boutiques.
While at Caesars, visitors want to experience the thrill of shopping at this stunning mall and are willing to pay higher prices.
The upscale boutiques at the Forum Shops in Las Vegas include:
RELATED: Learn more about The Forum Shops and 11 of the other great shopping malls on Las Vegas Boulevard.
Caesars Palace Nightlife and Bars
When at Caesars Palace, you never have to leave the resort to find a party. With OMNIA Nightclub, you can dance the night away, and if you feel like watching a show, you can be amazed by Absinthe. This is a strictly over-eighteen acrobatic show that will leave you enthralled.
If you want something more relaxed, you can enjoy a cigar at the Montecristo Cigar Bar, where they will happily help you pair a drink with your cigar of choice. Many other bars and lounges are scattered across the resort, such as Vanderpump Cocktail Garden and Lobby Bar.
This kind of entertainment does not come cheap, but when in Vegas, you might as well enjoy yourself to the fullest.
Caesars Palace Casino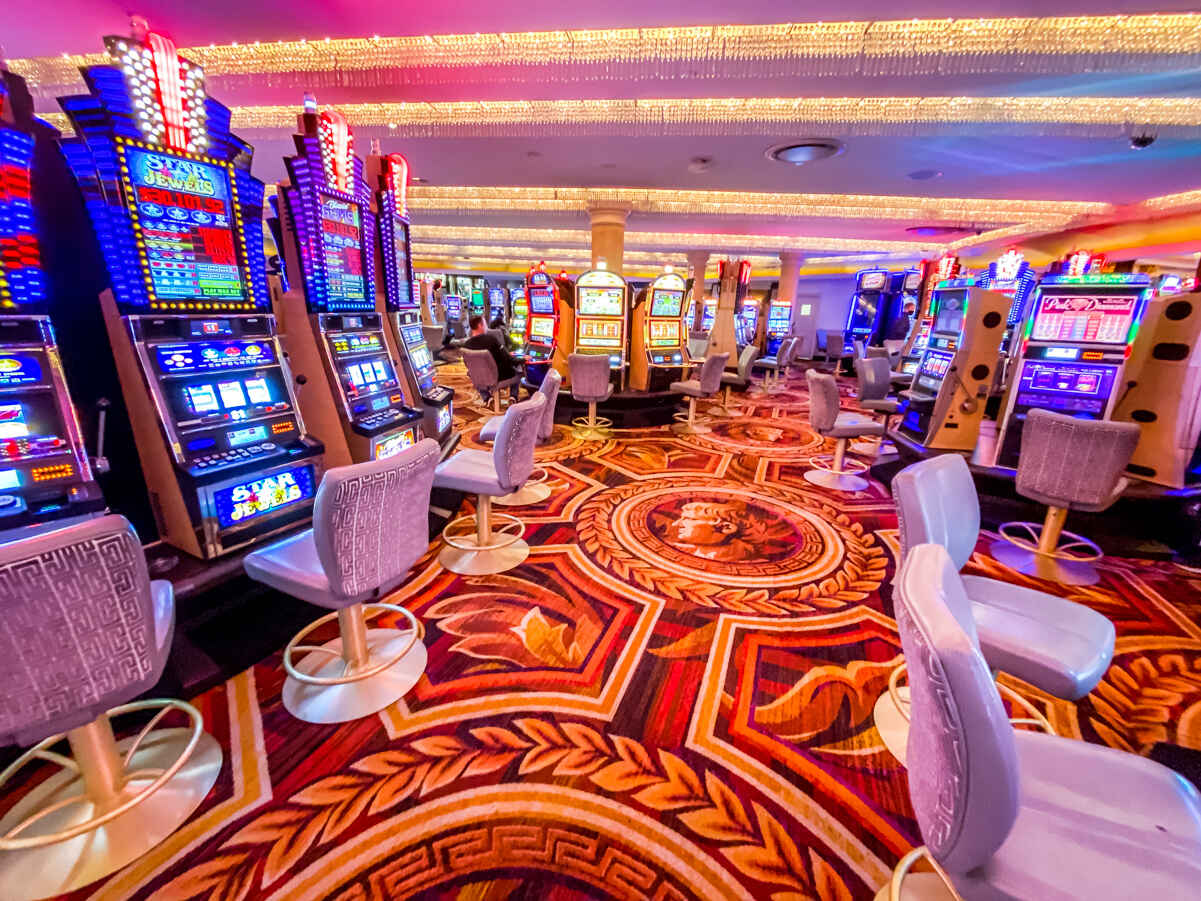 Staying at Caesars may tempt you to try your luck at gambling in the casino, even if it's not usually your cup of tea. At the world's most renowned casino, visitors are swept up in the high-energy atmosphere and don't mind splurging a bit. While gambling, it's common for people to indulge in a drink or two, no matter the cost.
You will surely have a blast with 185 table games and 1324 slot machines. Caesars Palace casino even offers a 4500-sq ft (418-sq m) poker room where you may want to put your skills to the test.
Swimming at Garden of the Gods Pool Oasis
With seven pools available at this Las Vegas resort, visitors are spoiled for choice. You can relax in the sun on a day bed or even rent a private cabana.
Fortuna pool offers swim-up blackjack tables, which is a luxury, and while playing, most visitors will have a drink, no matter the cost. You can also get VIP treatment at Bacchus Pool if you are willing to pay for it. This pool is for high rollers and celebrities but for the right amount of money; you can swim like a star too.
3. Caesars Palace Has Some of the Best Restaurants in Vegas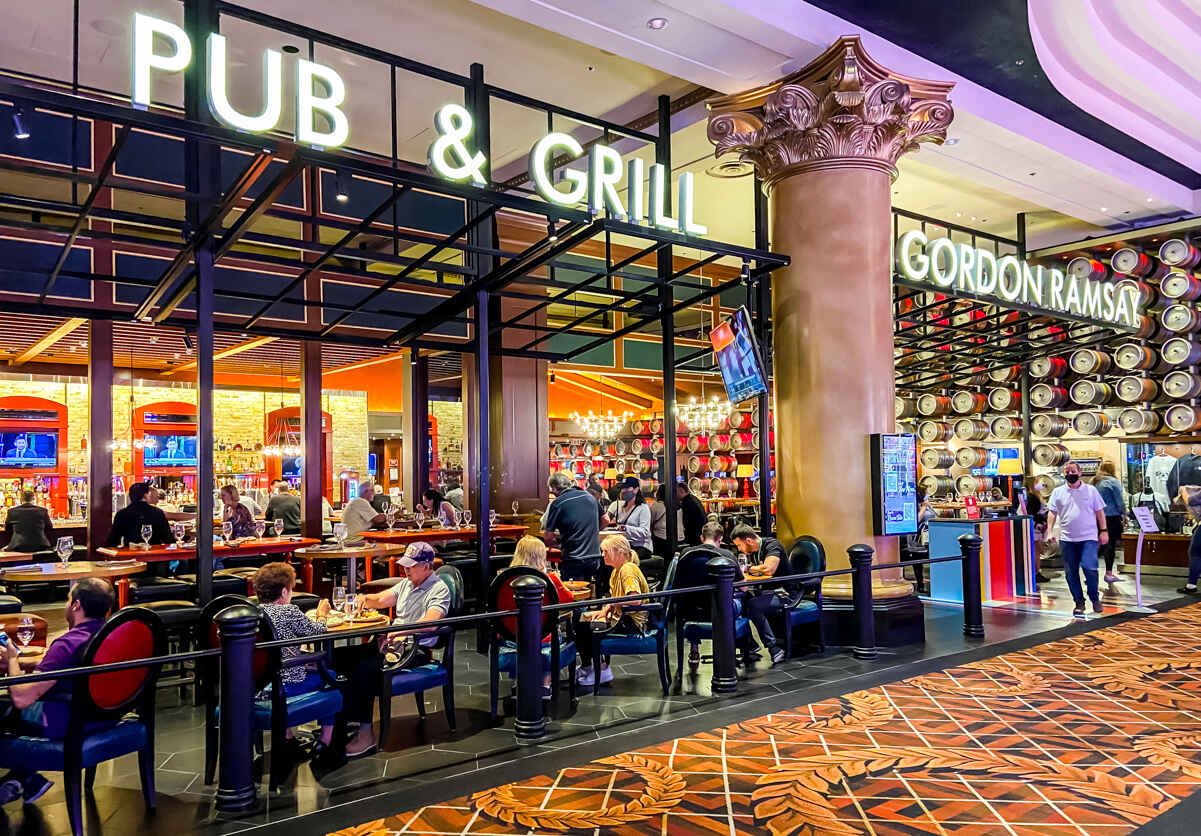 We all have to eat, and when the food is as delicious as it is at the fantastic restaurants available at Caesars Palace, visitors are willing to pay for quality.
Many of the restaurants at Caesars Las Vegas are known for their high prices due to a combination of factors. First, the restaurants are often led by celebrity chefs who have earned a reputation for their culinary skills and demand a premium for their services.
Second, the restaurants are located within a luxury hotel, which adds to the overall cost of the dining experience. Finally, the ingredients used in the dishes are often of the highest quality, which can also drive up the prices.
With over 20 dining options to choose from, guests can indulge in a variety of culinary and dining experiences. From the upscale French cuisine at Restaurant Guy Savoy to the classic Italian dishes at Amalfi's, there's something for everyone.
Here is a list of just some of the restaurants available for your culinary enjoyment at Caesars Palace:
While the restaurants at Caesars Las Vegas may be expensive, many guests feel that the exceptional quality of the food and service is worth the cost.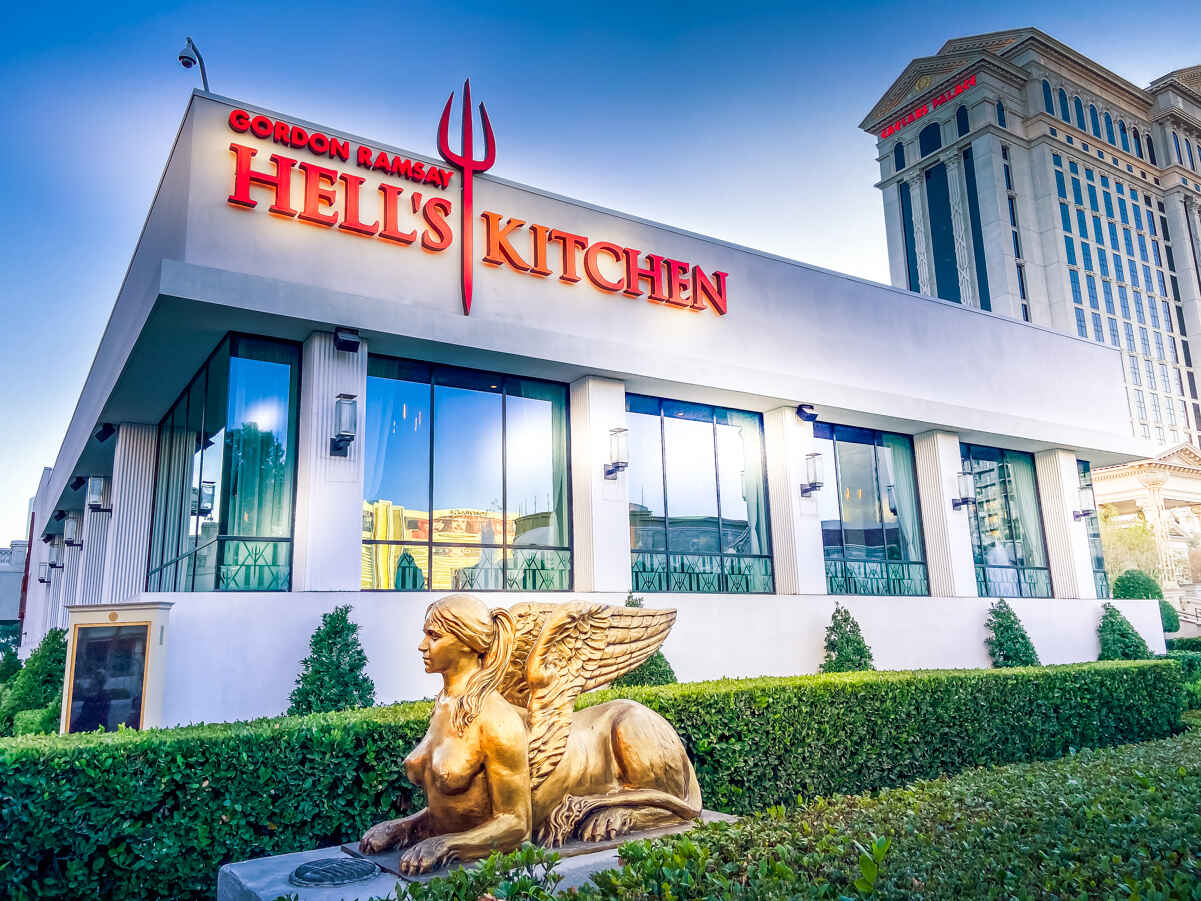 How Much is a Night at Caesars Palace
The cost of a night at Caesars Palace Las Vegas can vary depending on the season and availability, but it typically ranges from $100 to $500 per night. However, if you want a suite or other high-end accommodations, be prepared to pay significantly more.
The image below is a nightly rate calendar from a typical month (May) at Caesars Palace. Note that these prices are the "starting from" prices meaning the calendar is showing the lowest price for an entry-level room.
As you can see, there is one night in the month when you can get a room for as little as $70. More typically, however, you'll be paying in the $200 range. On top of that, don't forget there is a daily resort fee of $52.10 (including tax), which quickly increases the expense.
Book your Caesars Palace room today and save big – compare rates now at TripAdvisor!
Vegas Hotels That Compare Favorably With Caesars Palace
Several other Vegas hotels compare favorably with Caesars Palace in terms of luxury and amenities. The Bellagio is often compared to Caesars Palace due to its high-end accommodations, upscale restaurants, and world-class entertainment options.
The Venetian is another comparable hotel known for its luxurious suites, high-end shopping, and fine dining options. The Aria Resort and Casino is also regularly compared to Caesars Palace, with its modern architecture, high-end amenities, and celebrity chef restaurants.
These hotels offer similar luxurious experiences to Caesars Palace, making them popular choices for visitors to Las Vegas. In addition, each of these hotels is located within easy walking distance of Caesars. So you can still enjoy the Caesars even if you're staying somewhere else.
You can directly compare Caesars Palace Las Vegas against these other hotels on our website.
Final Thoughts
Several things make Caesars Las Vegas expensive. Firstly, it is an iconic Las Vegas resort that has defined excess on the Strip since 1966. Secondly, it has a large variety of entertainment options, including one of the biggest casinos in Vegas.
Also, the dining and restaurants available at Caesars is another pull that places the resort in such high demand and, therefore, more costly to enjoy.
Finally, it attracts a lot of tourists and people who want to stay there because they've seen it on TV. All of these factors contribute to the high cost of staying at Caesars Palace.
This content was originally published here.