Hanna Olivas: How a battle with cancer launched a media career | Las Vegas Review-Journal
Hanna Olivas is a woman who stares down her demons. After a troubled childhood and an abusive first marriage, the Las Vegan started her own business as a makeup artist and wed her childhood sweetheart and the love of her life. When she was diagnosed in August 2017 with multiple myeloma, an incurable blood cancer, she became a right-to-die advocate, landing her in the national spotlight.
Pivoting during the pandemic, she became an advocate for female empowerment and an author and publisher of a series of anthologies featuring "unstoppable" women. Embodying the brand with her grit and candor, the largely self-taught entrepreneur launched a podcast and became a sought-after speaker. She Rises Studios, the company she began with her older daughter, took off.
Success did not keep illness at bay. Last spring, she was hospitalized for fluid around her brain that her doctors believe was an aftereffect of COVID-19. Draining the fluid caused her excruciating nerve pain. "I cried probably the hardest I've ever cried in my life," the 49-year-old recalls. "They wheeled me into the hospital room, and I remember this, because this was when I was like, 'OK, why me?' "
She thought about how her business was thriving while she was doing good for others. About how her children and grandchildren needed her. How she was facing yet another medical crisis. "I had that moment, that pity party where I was just, like, 'Why? … Why do I keep getting punished?' "
She has come up with at least a partial answer to that question.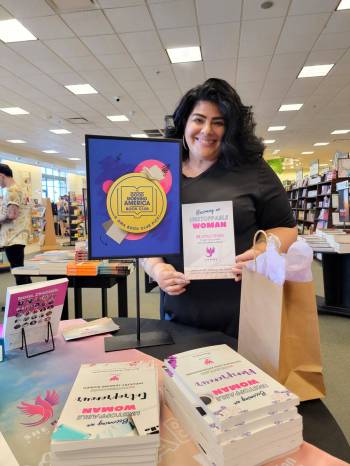 Olivas entered the national spotlight in 2019, when her personal story of championing medically assisted dying was published in People magazine. She has said that if she is near death from cancer, she wants the option of medical assistance to die, which is against the law in Nevada and other states. As a volunteer for Compassion & Choices, an organization that lobbies for changes in the law for people with terminal illnesses, she did a whirlwind media tour in New York City. "I was exhausted, and I don't have an incurable illness," recalls Patricia A. González-Portillo, the senior national Latino media director for Compassion & Choices. "Hanna kept going and going."
González-Portillo says Olivas is fueled by love of life, faith in God, and a desire to be a voice for the voiceless. She resonates because she is relatable. "It's like you're talking to the mom," González-Portillo says. "It's like you're talking to your friend that's dealing with cancer. You're talking to the woman who could be your neighbor. She's very candid, she's very genuine."
livas advocated during the past two sessions of the Nevada Legislature to change state law to allow medically assisted dying. After a bill failed to pass in the 2021 session, she decided to run for state Assembly, eventually dropping out of the race for health reasons. She plans to continue her advocacy during this year's session.
In 2020, Olivas also launched the Brave & Beautiful Blood Cancer Foundation to offer monetary and other assistance to people with blood cancers. As her voice grew more prominent, contacts in publishing encouraged her to write about her life. She began to research how cancer can affect families. But when the pandemic hit, she shifted her focus to writing books about empowerment for women.
"That's something I needed," she says. "I was wanting to get support, but I also wanted to give support." She also pivoted, she says, because of the toll that talking so much about dying was having on her family.
With her daughter Adriana Luna Carlos, she released the self-help anthology Becoming an Unstoppable Woman in September 2020. The book became the first in a series, the most successful of which to date has been Becoming an Unstoppable Woman in Finance.
"We did these book tours, and all of a sudden I got invited to the New York Stock Exchange," she says. "I walked the floor, rang the bell, did an interview with FinTech TV, and really got to see the moving parts of the stock exchange."
The experience both inspired her and riled her up. "I was like, wow, there's no women here and the girls' bathroom is downstairs."
Olivas says her income rose into the six figures in the first year of her new venture and now is approaching seven figures. The money has allowed her to give back to the blood cancer community, pay her medical bills, help her grandchildren and buy her husband a boat. She is able to grow her business and sponsor some authors in publishing.
She Rises Studios now employs a team of 17 and is working with 142 authors. Freelance authors generally pay a fee for inclusion in the anthologies with the potential to recoup their investment in royalties. This type of model has its detractors in mainstream publishing, but one of Olivas' authors, Nicole Curtis, says it's been worth it for her as a way to build name recognition and help other women in the process. "I wanted to be a part of the mission of changing women's lives," says Curtis, 40, who donated plasma to make her first down payment and now works as Olivas' executive assistant. "(Hanna) taught me a lot about being me … and that you can do anything you want to do and become anybody you want to become. … She's a powerhouse. She is who she is; you either take it or leave it. But she has the presence of a teddy bear at the same time. She'll go above and beyond for anybody, but if you cross her, she doesn't put up with that crap."
Olivas says that as a child, she was sexually abused by boyfriends of her mother, who has since kicked a drug habit and with whom she is now on good terms. At age 12, she ran away from home. "I was trying to get away from the dysfunction of my mother and the other family members."
A social worker determined that she needed help, not punishment. She was enrolled in a program for teens that taught life skills and kept them busy in projects like graffiti cleanup. It was there, at age 13, that she met Jerry Olivas. They dated for a year and a half, until Olivas' mother forbade it.
Jerry Olivas, 50, says he was "influenced by gangs at a young age." At age 15, he was shot. Although he was an innocent bystander, Hanna's mother said, "No, you're not going to hang out with this kid," he recalls.
So, before Hanna was 16, and with her mother's encouragement, she married a different man. He was 10 years older than her. "He came off as feeling sorry for me, that he could help me, that he would protect me, he would keep me safe," Hanna says. "But that's not what happened."
She was sexually abused by her husband, she says, and ultimately fled, losing custody of her two oldest children. What pains her most is that she was not there to protect her daughter from sexual abuse from a relative of her ex-husband's. She has worked hard to repair her relationships with her children.
"I'm done living in fear. I'm done feeling like this dirty girl, this marked girl," she says. "I want to do better for my kids. … They'll all tell you that none of them had it easy, because they had a damaged mom who always operated in fight-or-flight."
She got into therapy. She found mentors. She thought about who she was, and who she wanted to be. "Each trial and tribulation leaves its mark, whether it's a scar, or it's something that I've had to learn to heal from. But the first thing that helped me start to heal was just really understanding who I really was, which was this strong, loving, caring woman."
As an adult, she would occasionally run into Jerry. "He said, 'You're gonna marry me,' and I said I doubted it, but here we are." Their 10-year wedding anniversary will be in May.
"She offers me peace of mind," Jerry Olivas says. "She gives me genuine love and respect, and I give it in return. I adore her to death, and she gives it back to me. There's never been a doubt or questions about our love. She's great to my kids."
Jerry and Hanna each have four kids of their own. They have a combined six grandchildren. Jerry's youngest child, Sophia, now 10, came to live with them in May 2021 after her mother died by suicide. Little by little, Sophia came out of her shell. The girl's presence, complete with ongoing pranks on her dad, lifts the mood of the household, which includes Jerry's father, Hanna's youngest son, her younger daughter and two grandsons. Sophia beams when she talks about using a turkey baster to secretly squirt mustard into the biscuits her unsuspecting dad was taking to work for lunch. "It's one of the best things that ever happened to me," Hanna says of Sophia's arrival.
Jerry Olivas, who is a journeyman glazier and shop foreman, says his wife has always had an entrepreneurial mindset and a calling to help battered women and children. It didn't surprise him when her professional focus turned to empowering women.
"I didn't know it would take off and be what it is now, and I didn't know that it would lead to the things that she's doing. But I supported her cause, and I supported her no matter what," Jerry says. "It's been good for her … She doesn't like when she has nothing to do, because she focuses on illness and she can get a little depressed about what's going on."
The upbeat messaging of her brand notwithstanding, Hanna admits to having had some of her darkest hours in the past year. A life-threatening blood clot in her jugular, related to the port that delivers chemotherapy treatments, landed her in the hospital in June. For a time, she stopped praying. She was too angry. Things were very unfair and very hard. Because of the medical complications from the port, she has been reassessing whether to continue cancer treatment.
"What if I just don't do any treatment anymore, and focus on the quality of life and not the quantity?" she asks herself. "Doing the things that I could do I while I still can, spending time with the kids, with my husband." She has defied early prognoses for how long she had to live, and stopped asking for predictions. She doesn't want cancer to define her. She wants to define herself, to live without limits. Despite the misery of cancer, she acknowledges that it has indirectly led to meaningful and even wonderful experiences. It gave her opportunities to travel. It fostered relationships with other women. She hears almost daily from strangers who thank her for her advocacy.
"It's a beautiful thing to want to help encourage others, but it can also be tiring because I need that too, you know? So I'm torn. The diagnosis and the treatment and the stress of it all has taken a lot from me. But then, working with women from all over the world and speaking and sharing has also filled my cup."
Hanna began the new year on a positive note, with her posts on Facebook hinting at more reinvention ahead. If she knows what shape it will take, she's not letting on.
"Sometimes it takes something so life-altering to make you realize it's time for a change," she wrote in a post. "Now it's time for me to change and make life changing choices.
"I'm ready and willing to learn and grow …
"I am also ready to let go and move on …
"The old Hanna No Longer Exists."◆
This content was originally published here.