Entertainment in Las Vegas is constantly evolving and over the years this has provided us with the opportunity to see some super spectacular shows. Everything we've seen has been the best entertainment ever, but of course you'd expect nothing less from the Entertainment Capital of the World!
There was the theatrical performances of Avenue Q, Showstoppers and La Reve, and the musical masterpiece of Frank The Man The Music. (Sadly, these shows are no longer running in Las Vegas but if they ever return, we definitely recommend you see them.)
We've had the opportunity to see some very funny stand-up comedians (Jerry Seinfeld, Howie Mandel, David Spade, Ray Romano), some awesome magicians (Penn & Teller, Mat Franco), and a number of amazing singers/performers (Celine Dion, Elton John, Gwen Stefani, Reba McEntire, Brooks & Dunn, Diana Ross, James Taylor, Silk Sonic).
We've also seen all the incredible shows listed below. These are our favorites (listed in no particular order) and we highly recommend you see them the next time you visit Las Vegas.
O BY CIRQUE DU SOLEIL

O by Cirque du Soleil at the Bellagio is a breathtaking aquatic show that combines powerful acrobatics, striking visuals, and majestic music. Set in a custom-built theater featuring a 1.5 million gallon pool, this show is a mesmerizing journey filled with mystery and awe. Aerialists, divers, and swimmers perform daring feats of strength and agility, while synchronized swimmers create captivating formations in the water. The show also features a cast of clowns who bring a sense of humor and levity to the proceedings. An unforgettable experience, O by Cirque du Soleil is a must-see show that will leave you in awe. It's so good that we've seen it twice!
MYSTERE BY CIRQUE DU SOLEIL
Mystère by Cirque du Soleil at Treasure Island is a spectacular show featuring a unique blend of awe-inspiring acrobatics, beautiful choreography, and captivating music that transports you to an otherworldly realm. The show features an array of talented acrobats, contortionists, aerialists, and musicians that perform in front of a colorful backdrop. The daring and death-defying acts will leave you speechless, and the music and costumes will keep you mesmerized throughout the entire performance. As the longest running Cirque show on the Strip, Mystère is a must-see for any Cirque du Soleil fan and is sure to leave you with a lasting impression of pure joy and wonder. A heads up that if you're seated in the front row, you just might become part of the show. We ended up playing ball with one of the clowns and were taken on stage to be part of the act. It was a lot of fun!
COMEDIAN CARROT TOP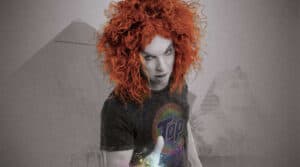 Carrot Top at the Luxor is a high-energy, side-splitting one-man comedy show, featuring an array of outrageous props, outrageous jokes, larger than life performances, as well as interactive audience participation. With his signature red hair, Carrot Top is an energetic performer and a crowd favorite. Carrot Top is a must-see in Las Vegas. You can expect nonstop laughter and a night to remember. He's the perfect addition to any Las Vegas trip and a great way to kick off a night out on the town. He's so incredibly funny that we've seen him twice!
MAGICIAN DAVID COPPERFIELD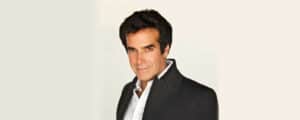 David Copperfield is one of the world's most renowned illusionists, and his show at the MGM Grand is nothing short of spectacular. The show features some of Copperfield's greatest illusions, masterful sleight of hand, incredible feats of levitation and disappearances. Copperfield's performance is enhanced by a dynamic stage presence and dazzling special effects. This show is perfect for all ages and provides a one-of-a-kind experience that will leave you breathless. Copperfield's show in Las Vegas is an absolute must-see! Note that seating in the David Copperfield Theater is booths and tables. Seating at the tables can feel a bit tight.
KA BY CIRQUE DU SOLEIL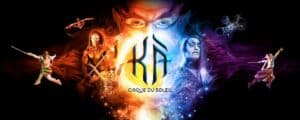 Kà Cirque du Soleil at the MGM Grand is a mix of aerial acrobatics, martial arts, puppetry and theatrical effects all performed on a giant rotating stage that is absolutely incredible. The show is accompanied by a live musical score and theatrical elements creating an immersive experience for the audience. All ages will be captivated by the brilliant costumes, mesmerizing music, and breathtaking stunts. Kà is the perfect way to experience the magic of Las Vegas. We had the opportunity to tour the KA Theater – it's incredibly cool! We highly recommend taking the tour if you get the chance.
MJ ONE BY CIRQUE DU SOLEIL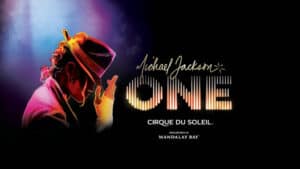 MJ One by Cirque du Soleil at Mandalay Bay pays tribute to the life and artistry of the late Michael Jackson. This high-energy and visually stunning production is an immersive experience that combines acrobatics, dance, gravity-defying stunts, and multimedia elements to create a unique theatrical journey, all set to Jackson's greatest hits. Audiences are taken on a mesmerizing journey through the King of Pop's creative genius and musical legacy, from his iconic moonwalk to his complex choreography and dazzling costumes. With vibrant music, stunning visuals, and heart-pounding choreography, this show is an unforgettable experience for fans of all ages. If you're a fan of Michael Jackson's music, this show is a definite must-see. And, MJ One features some very unique stunts that you won't see at any of the other cirque shows on the Las Vegas Strip.
MAD APPLE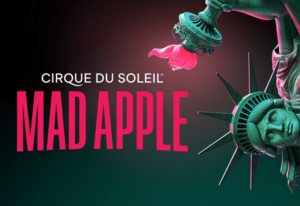 Mad Apple at New York-New York is one of the newer Cirque du Soleil shows on the Strip. It is a modern-day variety show with its high-flying acrobatics, daring aerial stunts, exciting contortion acts, singers, dancers and comedians that bring laughter and joy to the audience. The show's stunning costumes and vibrant sets add to the spectacle of the performance and take you on a journey of awe-inspiring acts that will make you gasp in wonder. Mad Apple is a high-energy show unlike anything you've ever seen before. And, if you arrive at the theater early, you have the opportunity to visit one of the bars located right on the stage.
JABBAWOCKEEZ

Jabbawockeez at MGM Grand is a fast-paced, high-energy performance filled with powerful music, dance and captivating special effects. The show features an all-star cast of multitalented dancers and actors, who bring the show's signature hip-hop, breakdancing, and freestyle moves to life through vibrant and energetic performances. The unique and mesmerizing choreography of Jabbawockeez is sure to leave you entertained, inspired and moved. We recommend that you get tickets in the middle of the theatre as it is hard to see all the action from the sides.
The post Eight Amazing Must-See Las Vegas Shows appeared first on Las Vegas Deals.